Grace Episcopal Church
Grace Episcopal Church
160 High StreetMedford, MA 02155
La Farge was renowned for his skill with color, and details of many of his windows have been compared to music. The window of Rebecca at the Well of 1885, a Memorial to Ellen Shepherd Brooks in Grace Episcopal Church in Medford, Massachusetts, is one of his finest, rich with coloristic subtleties and musical harmonies.
This English Gothic style church was an early work by Henry Hobson Richardson, built between 1867-1869. It is the oldest standing building by Richardson; it was funded by the church's benefactor, Ellen Shepherd Brooks and her sons. The exterior is distinguished by the surface of uncut fieldstone boulders, with an asymmetrical 90' tower at the left front of the church, and a broad, steeply pitched gable roof over the nave. The use of uncut stone for the exterior was at the request of the patrons. The interior features an impressive beamed ceiling.
The memorial window to Ellen Shepherd Brooks is found in one of the lancets on the side of the nave. La Farge was paid a fee of $1,200 for this window by Peter Chardon Brooks and Shepherd Brooks. It was installed in 1886. The window is a faithful rendering of Horace Vernet's 1835 painting of Rebecca and Eliezer at the Well, a theme specified in the contract between the sons of Ellen Shepherd Brooks and La Farge.[1] The design was presumably suggested by La Farge and approved by the family, as an earlier letter from Peter Brooks admits that he has "no idea about a subject."[2] Vernet was a French Romantic artist much admired by La Farge. The current whereabouts of Vernet's work are not known. The transposition into glass transforms the image, and makes La Farge's work an original in its own right.
The subject is the story of a divinely chosen woman from Genesis 24. Eliezer was servant of Abraham, charged with finding a wife for his son Isaac. Eliezer waited for a sign from God that he had found the right woman, and found it when Rebecca gave him, a stranger, a drink from a well (verses 43-46). The inscription at the bottom of the window reads: "In memory of our mother, Ellen Shepherd Brooks 1884." There are 720 individual pieces of glass in the memorial text alone.[3]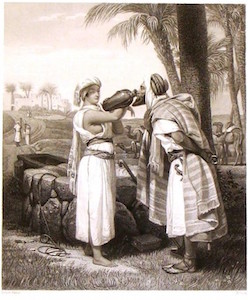 Horace Vernet: Rebecca and Eliezer at the Well, 1835. Location unknown.

La Farge found contrasts of density and transparency fascinating, and exploited these effects in many of his windows, which glow with jewel-like color and richly veiled tones.[4] He used opalescent glass and layers of plated glass to achieve his desired colors, and employed spherical nuggets of glass with chipped surfaces, his "broken jewels," for color accents. His luminous windows parallel, and in some ways surpass, the revolutionary paintings of the French Impressionists and Neo-Impressionists. Only the fact that stained glass has often been considered a decorative or minor art has kept them from being recognized as the equal of modern painting.[5]

Notes

<! -- Moved search box from the header.php file to footer.php. Removed proudly powered by Omeka line. *// -->