Featured Tip
We highlight library tools and resources that can help your research.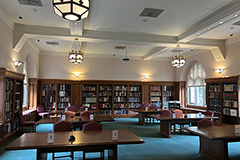 Search Burns Archives
Search Burns Archives is a tool that allows you to search for archives and manuscripts held at Burns Library. You can search for the details of just one collection, or for lots of materials in all the collections. More information.
---
Browse all Featured Tip FAQs ⟩
Ask A Librarian
We can help you locate library resources, connect with a subject librarian, or find support at any stage of your research.
Elizabeth is an expert at:
Featured Guides:
Special collections