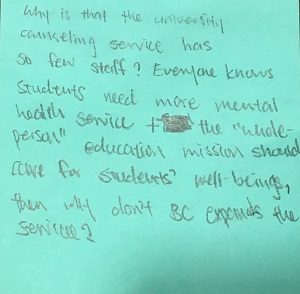 It sounds like you're frustrated with a long wait, and have heard from other students who are as well. It's good of you to commiserate with them; everyone needs an understanding ear. My assistants have communicated your frustrations to Student Affairs; when they respond, I'll post it here. I hope you get the help you seek in spite of a long wait.
Student Affairs responds:
While UCS is staffed at levels at least equal to most of our peer institutions, and is always available to students in crisis that day, there is still the reality that students seeking ongoing longer term therapy may have to wait up to a couple of weeks for an appointment. We are piloting a new initiative offering same day consultation appointments for students seeking to address an identified problem in a rapid access fashion. We hope that this will help more accurately and quickly meet student mental health needs. We are always interested in feedback of all sorts, and strive to improve our service to the BC community.