Open Access is the free, immediate, online availability of research articles coupled with the rights to use these articles fully in the digital environment. Open Access ensures that anyone can access and use these results—to turn ideas into industries and breakthroughs into better lives.
International Open Access Week is from October 21-27 this year. Every year, the coordinating organization, SPARC, chooses a different theme on which to focus. The theme for 2019 is, "Open for Whom? Equity in Open Knowledge."

Essential questions to explore this year include:

Whose interests are being prioritized in the actions we take and in the platforms that we support? Whose voices are excluded? Are underrepresented groups included as full partners from the beginning? Are we supporting not only open access but also equitable participation in research communication?
These critical questions will help organizations design open access to "address inequities in the current system." These are critical questions here at Boston College Libraries as well. As a Jesuit institution, supporting and promoting Open Access is central to our mission of social justice and education for all. We work to create a library that is equitable and inclusive for all faculty, staff, and students at BC. To promote this environment, we are using the month of October to showcase how BC Libraries use OA to advance equity and inclusion:
During Open Access Week, the displays above the reference desk will highlight the theme of Open Access Week 2019 and guide patrons to more information about Open Access. This display is designed to engage patrons in the language with which they feel most comfortable. Boston College has students from over 100 different countries, and English is a second, third, or fourth language for many of them. BC Libraries continue to meet students where they are to provide the best service we can to make students feel comfortable in the Library.


The screen next to the Answer Wall will display visualizations of how the Open Access repository at Boston College (eScholarship@BC) is used by researchers all over the world. eScholarship provides free access to Boston College theses and dissertations as well as faculty and student published research. It also holds conference proceedings, posters, & teaching materials.


Finally, for the entire month of October, the book display nearest to the circulation desk is highlighting the cost of access to subscription-based journal articles. Anyone not affiliated with an institution that can afford to subscribe to journals and databases is at a huge disadvantage. This display shows the cost of reading just 19 highly-cited articles published in subscription-based journals. Compare them to the 19 Open Access articles which cost nothing to read. These Open Access articles have all been funded by the Boston College Open Access Fund in the past two years.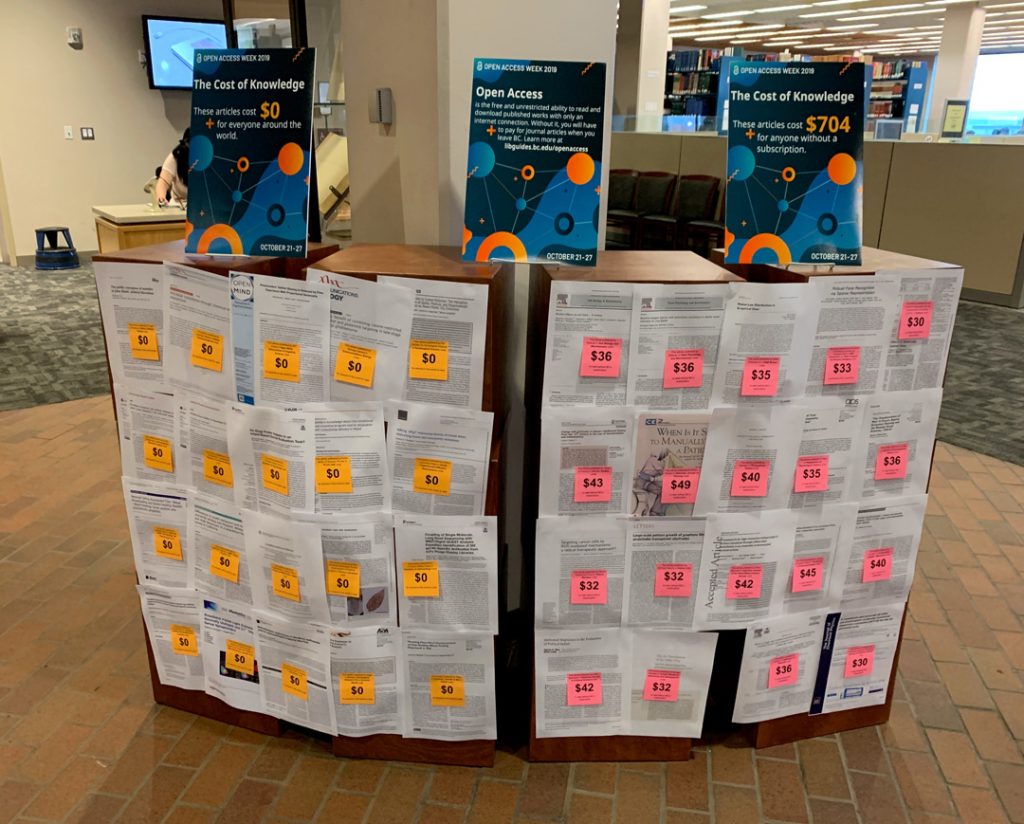 Open Access is increasingly the future of academic publishing. These exhibits in the O'Neill lobby highlight how Boston College is working to ensure an equitable academy for all. To learn more about Open Access, visit the Open Access LibGuide.