Burns Library helped to sponsor the publication and first American launch of Nancy Hurrell's groundbreaking study The Egan Irish Harps: Tradition, Patrons and Players in conjunction with the Irish Georgian Society.
The harp has been the symbol of Ireland since the Middle Ages, not quite as long as the shamrock and St. Patrick, but long before its appearance on the label of that other Irish icon, Guinness stout. Yet it may never have become the national instrument played in Ireland today had it not been for the ingenuity of an early 19th-century Dublin harp maker named John Egan.
Unlike concert harps, Egan's new-style harps were small and portable. They retained the characteristic bowed pillar of medieval Gaelic wire harps on which they were modeled, but used gut strings and modern mechanisms to change keys. Recognizing the excellence of Egan harps, George IV granted the maker a royal warrant. Although patronized by royalty, Egan's Portable Irish Harp, painted green with golden shamrocks, was also viewed as an emblem of Irish nationalist pride in post-Union Ireland.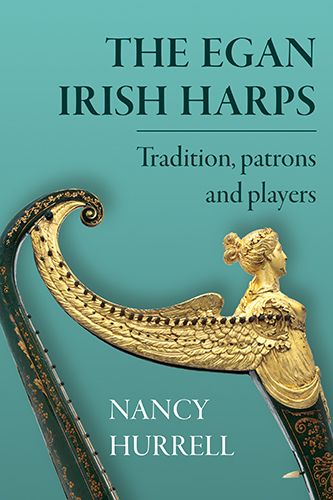 Continue reading "Egan Irish Harps: Neoclassical Art Meets Traditional Music"