"Genius of Genre" Exhibit Showcases Flann O'Brien Papers in Burns Library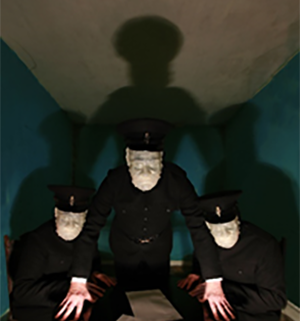 Flann the novelist. Myles the columnist. Brother Barnabas the student. Brian O'Nolan (1911-1966) wrote in many genres under many guises, in both English and Irish, confounding contemporaries with his incomparable genius and satirical wit.
On February 11, John J. Burns Library will open its spring exhibit on the Irish author best known for his cult classic novel, The Third Policeman. "Genius of Genre: The Pen Names and Personas of Flann O'Brien" will remain on display through June 8.
Using original manuscripts, letters, books, and artifacts from Burns Library's unrivaled collection of O'Nolan's papers and personal library, the exhibit will unmask the most enigmatic and elusive literary figure to emerge from 20th-century Ireland next to James Joyce.
The exhibit will also feature new and original works by Irish artists David and Eddie O'Kane, who have been creating and exhibiting Flann-inspired drawings, paintings, and animated and live-action videos at the biennial International Flann O'Brien Society conferences and other venues. An opening reception on February 12 will include curator-led viewings of the exhibit beginning at 4:30pm and a presentation by the O'Kanes at 5:15pm, followed by opportunities for conversation and more exhibit viewing. All are welcome.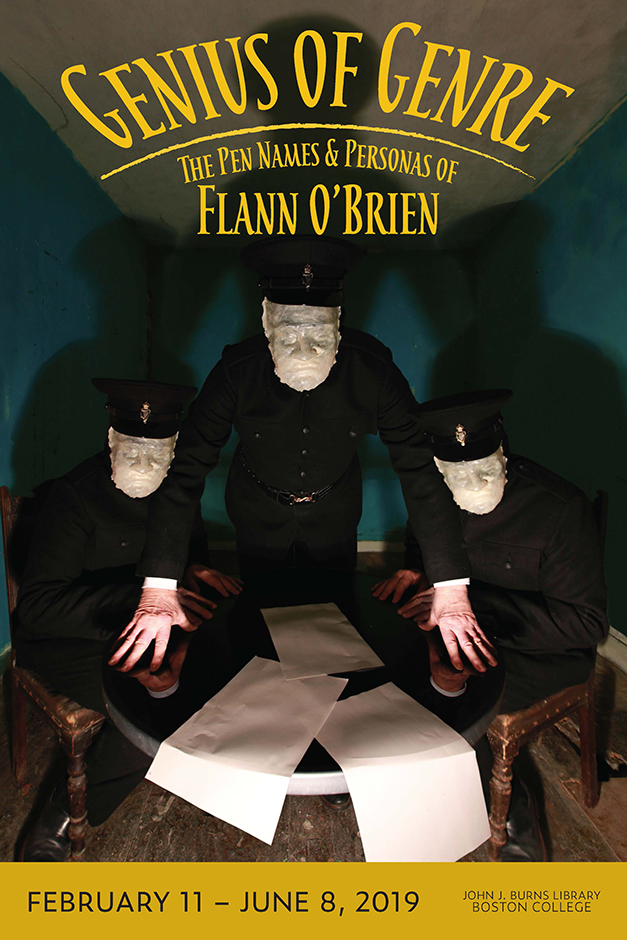 The exhibit will be complemented by podcast and iBook projects created by students from professor Joseph Nugent's Fall 2018 course, "From Page to Pod: Making Literature Public." The idea for the course and exhibit developed from a daylong symposium on Flann O'Brien and podcasting that Nugent organized and held in Burns Library in October 2017. Nugent and Burns Librarian Christian Dupont are planning additional collaborative projects and programs based on Flann and his works, including an installation and reception at the BC Ireland headquarters in Dublin in conjunction with the 2019 International Flann O'Brien Society, which will be hosted by University College Dublin in July.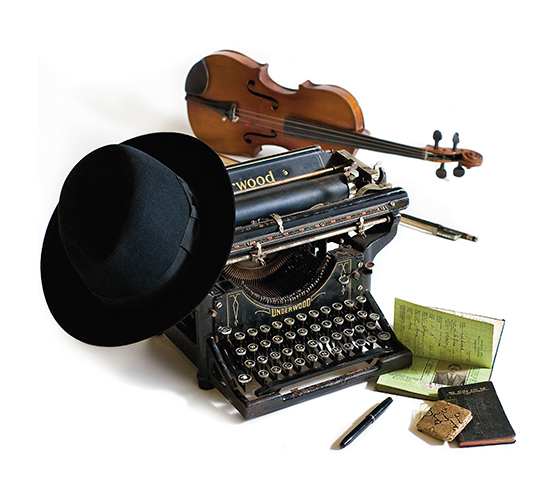 The Flann O'Brien Papers in Burns Library were purchased in 1997 from his youngest brother, Micheál Ó Nualláin, a cartoonist and painter who produced the large oil portrait of Flann at his writing desk that hangs in the Burns Library Irish Room. The archival collection was reprocessed in early 2018 to improve organization and access, and to integrate more recently acquired materials, such as correspondence between O'Nolan's widow and publishers following his death. Altogether, the collection comprises 30 boxes of material, plus a number of artifacts, several of which will be displayed in the exhibit, including a hat, briefcase, wallet, passport, and his trusty Underwood 3-14 typewriter.