"At some point, we need to have a conversation about what busing did to Boston and not be afraid of the conversation,'' Mayor Marty Walsh remarked on the 40th anniversary of the 1974 federal court order to forcibly desegregate Boston Public Schools. "I know black people that are still angry about busing. I know white people that are still angry about busing. . … They are angry on all sides.''[1]
Despite all the strife and struggle, evidence shows that racial imbalances persist in the Metro Boston area, and are even worsening. According to a 2013 report, Losing Ground: School Segregation in Massachusetts, over the last two decades, "the percentage of majority minority schools has more than doubled, intensely segregated schools [<10% white] have increased by more than seven times their original share, and in 2010-2011, a small share of apartheid schools [<1% white] existed that did not exist two decades earlier."[2]
To facilitate access to documentation about Boston Public Schools integration in the 1960s and 1970s, and to offer teachers and researchers more resources for studying the effects of busing, several members of the Boston Library Consortium (BLC) launched a project in 2015 to digitize their archival holdings and make them available through the Digital Public Library of America (DPLA). Some also created exhibits based on their materials. The BC Libraries did both.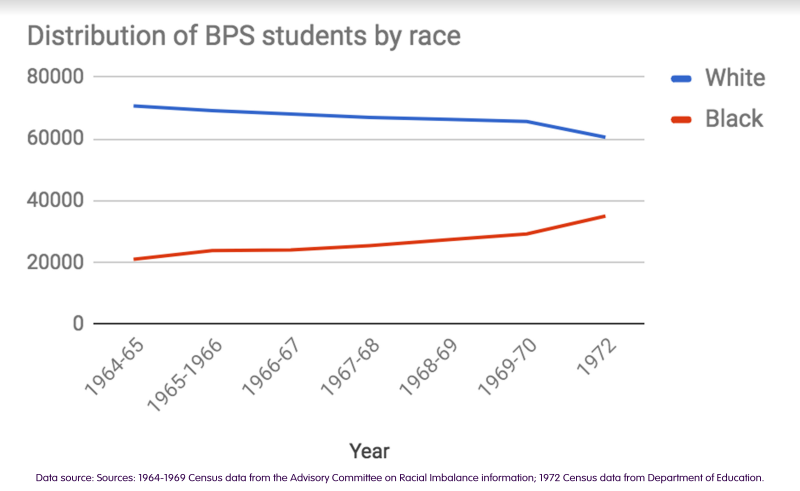 In October, the Libraries mounted a pair of companion exhibits, entitled Desegregating Boston's Schools: Crisis and Community Activism, 1963–1977, that examine the controversial busing plan, while bringing to the fore the relevance and value of historical archival research in understanding current events. The parallel displays construct a story from the events around the redistricting and busing mandates, showcasing contemporary manuscripts, pamphlets, books and photographs, while providing insight into the wider context of school desegregation using historical facts and data. Original visualizations charting and mapping the demographics of residents and students over time make the causes and effects of the desegregation policy changes in Boston apparent. Some lesser-known institutional history surfaced from exhibit research. One of the curators, Sarah Melton, commented: "We had been unaware of Boston College's role to support the new policies. There has been a lot of scholarship about the Boston busing crisis, but when our team started working on the exhibit, we didn't know that BC partnered with area schools to help improve the curriculum and monitor the desegregation process." In addition to Melton, Anna Kijas of the Digital Scholarship Team and Eric Weiskott of the Department of English were curators. The exhibits, one in John J. Burns Library and the other in the O'Neill Library Reading Room, close on February 2. A number of students have consulted them in conjunction with their classes, including those enrolled in the Lynch School's "Diversity in Higher Education" course.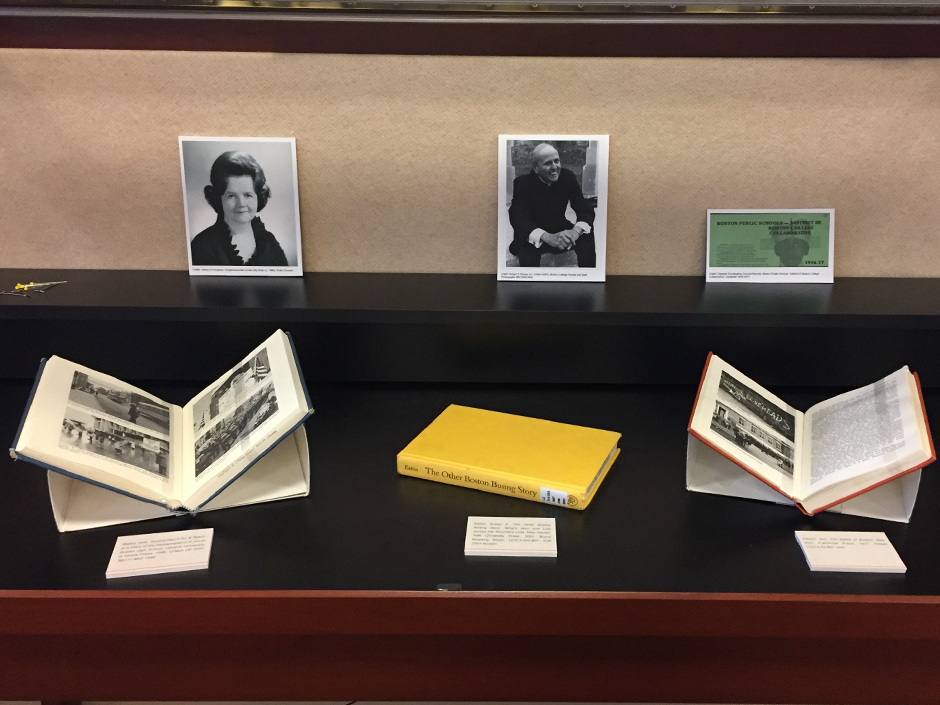 Online access to primary source documents was the second component of BC's contribution to the Boston Public Schools Desegregation program. While the two exhibitions provide a glimpse of the variety of resources that can inform research into the desegregation process, it was determined that a set of archival holdings could contribute most meaningfully to the corpus of digitized materials posted online by the BLC project. Burns Library holds the records of the Citywide Coordinating Council, the independent, autonomous body created by the courts to oversee desegregation in Boston Public Schools from 1975 to 1978. The documents identified for digitization included daily school questionnaires completed by volunteer observers, school administrators, and students, as well as reports by school monitors. The monitor reports completed a series of records digitized by UMass Boston.
Properly creating and managing a digital, searchable surrogate of the documents online demanded several distinct areas of preparation. Ayoola White, a Simmons College library and information science student, scanned the nearly 700 pages of documents for one of the projects she completed as an ARL/SAA Mosaic Fellow at the BC Libraries. The reports, though in the public domain, required redaction to remove personal information before being made publicly available online. Reviewing each report to identify such and digitally "blocking" that text from the digital access images was undertaken by Gayatri Khosla of the Lynch School of Education. Post-processing of the images was handled according to established Digital Library practices, and the metadata and scanned documents were added to Boston College Libraries' Special Collections Online. The content is also now discoverable via the Massachusetts Digital Commonwealth index and will soon be available via the DPLA, uniting it virtually with the contributions of other BLC partner institutions' digitized archival material.
The digitization initiative and exhibits undertaken by the BC Libraries complement resources produced by other members of the Boston Library Consortium, in particular Northeastern University, which spearheaded the collaborative project, and UMass Boston.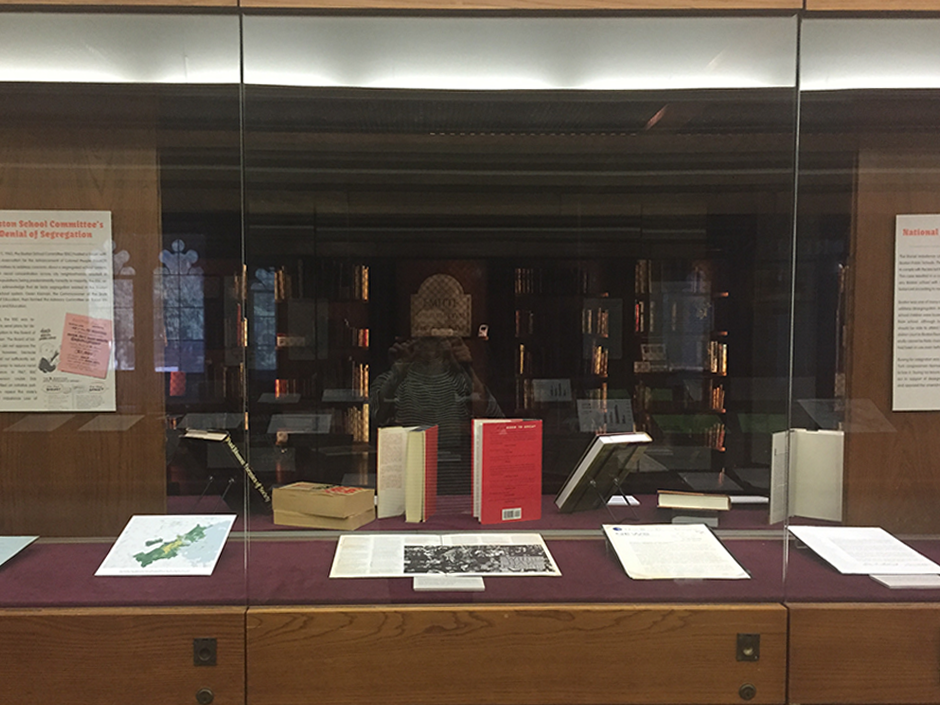 Northeastern led the development of common descriptive metadata practices to ensure that materials contributed by each of the partners can be found in the DPLA using a common set of search terms. It has also created a widget that can be added to online syllabi and other websites to launch a targeted keyword search on the DPLA corpus. Thus far, some 3,900 items are available, with more to come as DPLA continues to harvest digital objects supplied by the Boston College Libraries and other area institutions, including Suffolk University, State Library of Massachusetts, Boston City Archives, WGBH Media Library and Archives, and the National Archives and Records Administration in Boston.
In addition, Northeastern has recently announced the launch of a project website that features interactive maps and timelines of Boston public school desegregation documentation and links to online exhibits, such as UMass Boston's Stark & Subtle Divisions: A Collaborative History of Segregation in Boston, which was produced by a graduate history seminar. The site also includes links to curricular resources on the busing crisis developed by Boston Public Schools. Making primary resources about school integration freely and publicly available for teaching and research has been a chief goal of the collaborative project, which the BC Libraries have been proud to participate in and support.
---
[1] Meghan E. Irons, "Talk on Busing Overdue, Walsh Says," Boston Globe, 13 September 2014. https://www.bostonglobe.com/metro/2014/09/12/mayor-walsh-report-mark-anniversary-start-school-under-federal-desegregation-order/KtmDuz1QbfYayGE21SZ50N/story.html, accessed 1/15/2018.
[2] Jennifer B. Ayscue, Alyssa Greenberg, et al., Losing Ground: School Segregation in Massachusetts (2013). Report available from The Civil Rights Project / Proyecto Derechos Civiles, University of California Los Angeles. https://www.civilrightsproject.ucla.edu/research/k-12-education/integration-and-diversity/losing-ground-school-segregation-in-massachusetts, accessed 1/15/2018.