The Libraries are delighted to announce three fall events that dovetail with the collections of the John J. Burns Library's Irish Music Archives. This exciting slate of music-themed programs begins with an international symposium in September, followed in October by two presentations with live music.
Nótaí/Notes: Music and Ireland, a Research Symposium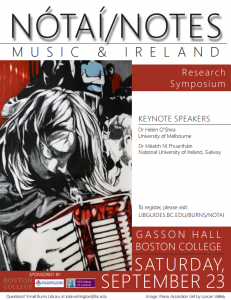 On September 23, a full-day symposium organized by the National University of Ireland Galway and Boston College will capitalize on music-related scholarship happening globally. The Nótaí/Notes: Music and Ireland  research symposium will begin at Boston College on Friday, September 22 with a reception at the Burns Library. Friday's reception will include a brief presentation by harp historian Nancy Hurrell and a musical demonstration on an early 19th-century Egan harp. Attendees will also have the opportunity to become acquainted with the Burns Library's extensive Irish Music Archives.
The full-day program on Saturday September 23 will take place in the Gasson Hall Irish Room. Keynote speakers will include Helen O'Shea (University of Melbourne) and Méabh Ní Fhuartháin (NUI Galway). Panel sessions will include presentations on Patrick Kavanagh's "On Raglan Road," the Willie Clancy Summer School, the piper Shaun O'Nolan, and more. A brief performance of Irish traditional music will cap off the day's events.
Findings from the Nótaí/Notes symposium will be included in a special themed edition of Éire-Ireland: An Interdisciplinary Journal of Irish Studies in 2019. The symposium is cosponsored by Comhrá Ceoil, Centre for Irish Studies at NUI Galway, together with the Boston College Libraries and Boston College Center for Irish Programs. Additional funding is provided by the Irish Research Council New Foundations program.
Celebrating The Séamus Connolly Collection of Irish Music
On the first anniversary of The Séamus Connolly Collection of Irish Music, Séamus Connolly returns to campus on Thursday, October 12th to give a multimedia presentation with live performance at the Cadigan Alumni Center. A collaboration between Connolly and the Boston College Libraries, the Connolly Collection offers a window into the collaborative nature of digital scholarship projects. The evening will feature live music performances by Séamus Connolly on fiddle, Jimmy and Séamus Noonan on flute and tin whistle, and Shannon and Matt Heaton on vocals, flute, and guitar.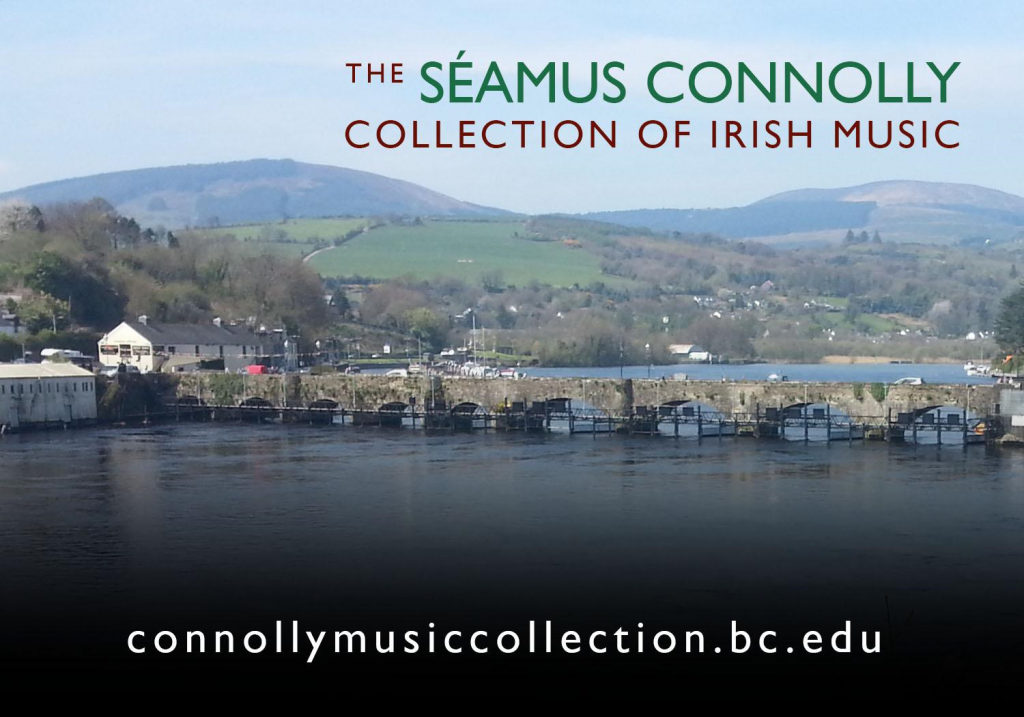 Connolly was a 2013 National Heritage Fellow and served as Sullivan Artist-in-Residence at BC from 2004 to 2015. His presentation will offer a behind-the-scenes look at how the digital collection came together, with stories and music selections that pay tribute to his musical mentors.
The $20 registration fee includes the 6:00 p.m. reception and the 6:30 p.m. program. Free parking is available on the Brighton Campus. To reserve your seat, please visit the Alumni Education Series website.
Harp Studies: Perspectives on the Irish Harp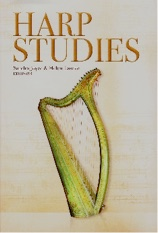 On Wednesday October 18th at 6:00 p.m., the Burns Library will host scholar/performers Helen Lawlor and Sandra Joyce. Lawlor and Joyce, who co-edited Harp Studies (Four Courts Press, 2016), will draw on new research into the history and music of the Irish national instrument. In a presentation with live music, they will describe how the music of the Irish harp has been used and interpreted as a symbol of Ireland, and demonstrate how the harp has been reimagined through poetry, song, literature, and film.
Singer Sandra Joyce directs the Irish World Academy of Music and Dance at the University of Limerick. Harpist Helen Lawlor lectures in music at Dundalk Institute of Technology. Lawlor's essay chapter in Harp Studies draws upon extensive research in the Mary O'Hara Papers in the Burns Library's Irish Music Archives.
For more information on these programs, please contact Elizabeth Sweeney, Irish Music Archives events coordinator, at elizabeth.sweeney@bc.edu.