At Burns Library, commemorations of the Irish Rebellion of 1916 began early in 2016. The acquisition of the Loretta Clarke Murray collection, which provides a unique perspective of the Irish nationalist movement through the eyes and words of female activists, along with the Thomas and Kathleen Daly Clarke papers lent significant impetus to create an exhibit based on women's involvement in the revolutionary period, 1900-1923.
Items on display reflect issues and events leading up to the Easter Rising of 1916, the ensuing Anglo-Irish War, and the Civil War that took place after the much contested 1921 Treaty with England. A handwritten journal from Margaret Skinnider, a combatant in the Rising in Dublin, is featured, as are: two versions of the constitution of Cumann na mBan (Irish Women's Council, a sister organization to the Irish Volunteers); memorabilia from activist groups such as Inghinidhe na hEireann (Daughters of Ireland), co-founded by Maud Gonne; and autograph books circulated by women who were imprisoned during the Civil War. Several brooches—some styled after the Tara brooch, another incorporating a rifle and the abbreviation for Cumann Na mBan—materially represent the organizations that arose during this period of cultural and political activism. A particular highlight is a large and colorful embroidered panel featuring the Four Jewels of Ireland that was designed and executed by Maud Gonne.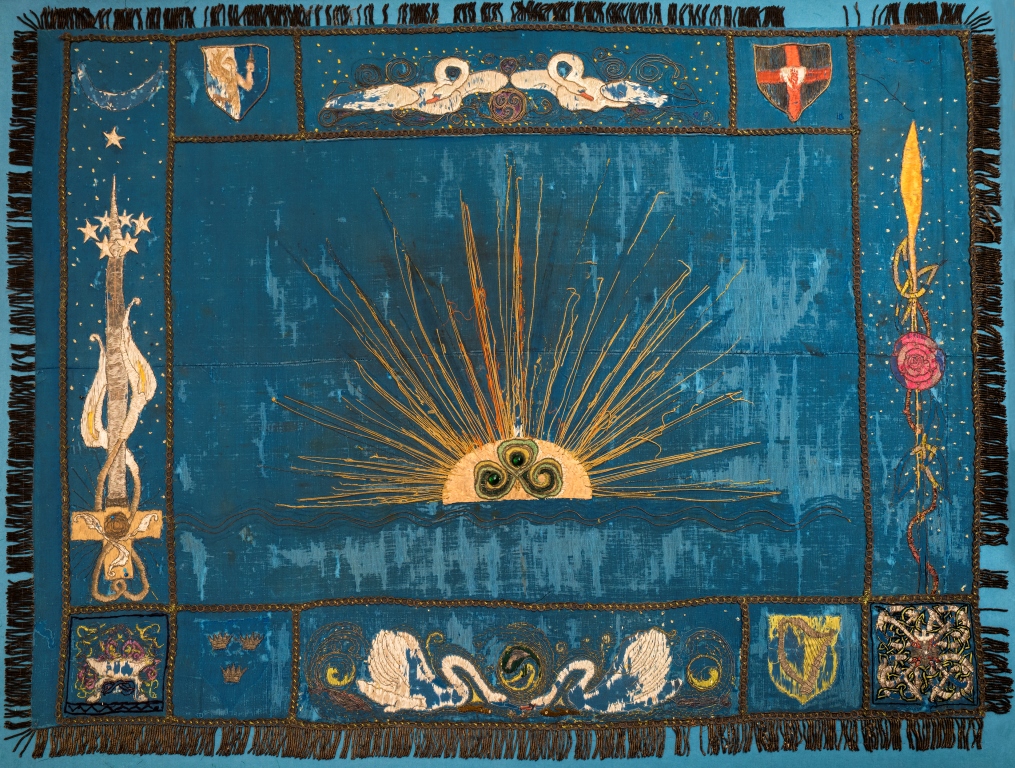 In the years leading up to 1916, Irish nationalists sought to create an independent identity for Ireland in opposition to British rule. Individuals and groups looked back to a perceived golden age in literature, visual arts, language, crafts, athletics, and folklore. A great sense of national pride drove their politics, and eventually led some to engage in violent rebellion. The cultural revival fed into the ideologies of rebellion leaders and those committed to following them. The language of the Proclamation of the Irish Republic issued on the eve of the Rising in April 1916 reflects the passionately patriotic mindset: "In the name of God and of the dead generations from which she receives her old tradition of nationhood, Ireland, through us, summons her children to her flag and strikes for her freedom." An original copy of the Proclamation, on loan from The Irish National Famine Museum in Strokestown, Ireland, is also on display thanks to support from the Irish Heritage Trust.
Two events have been held in conjunction with the exhibit. On November 18, collector Loretta Clarke Murray visited and was on hand for a reception and discussion co-sponsored by Burns Library and The Eire Society of Boston. The discussion, facilitated by Burns Visiting Scholar Louis de Paor and BC English professor Joe Nugent, focused on the continuing importance of the Irish language. On February 3, Lucy McDiarmid, the Marie Frazee-Baldassarre Professor of English at Montclair State University, gave a luncheon talk titled "Fairies, Rebels, and the Boundaries of the House in 1916" based on her award-winning study At Home in the Revolution: What Women Said and Did in 1916.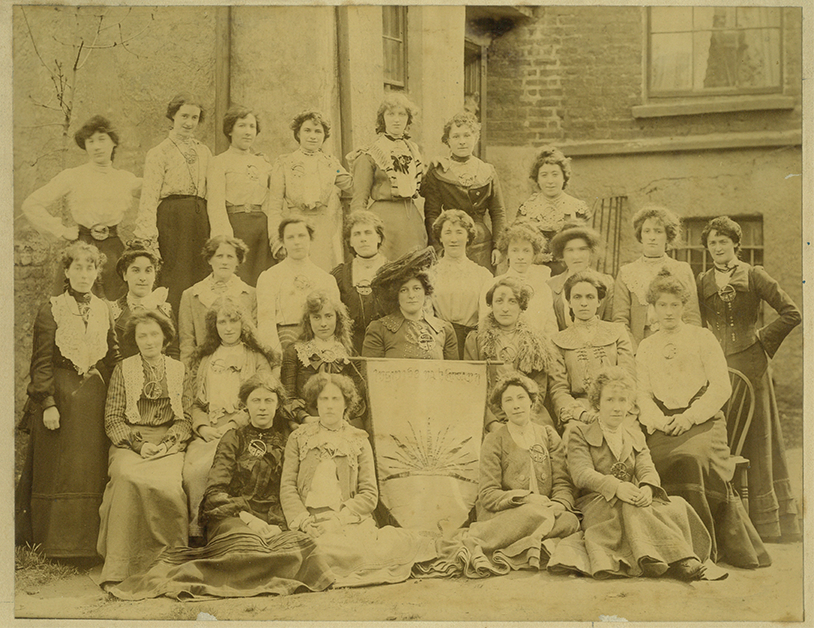 Burns Library has continued to reach out to interested audiences by highlighting a few of the leading women of the Irish Rebellion in a series of entries on the John J. Burns Library blog. The posts have allowed us to provide more extensive information about these extraordinary women than could be contained in the exhibits panels and to reach those who cannot visit in person.
The exhibit has also offered students the opportunity to gain further insight into the time period. At least seven classes have visited the exhibit so far. Feedback from students and other visitors has been rich and varied.
Katherine Oksen, student assistant to Burns Library Conservator Barbara Adams Hebard helped to create mounts for items in the exhibit. Oksen wrote a blog post about the pieces of jewelry she worked on, and commented:
"The opportunity to be able to work on the Irish Women Rising Exhibit was rewarding in that it took elements of events that I had been learning about in my history class and expanded on it, while simultaneously zeroing in on the people my textbooks have tended to ignore. While it would be naive to declare that I can understand exactly what these women went through, I was given a fresh set of stories and materials to at least try to. I really loved having my work and my studies complement each other."
Catherine McKenna, the Margaret Brooks Robinson Professor of Celtic Languages and Literatures at Harvard University and department chair, remarked after bringing students from her "Ireland Rising" course to see the exhibit:
"[They] couldn't stop talking … about the dozens of interesting things they'd seen and learned. And as for me, it was a revelation—Mollie Gill, Margaret Skinnider, about whom I'd known nothing at all…"
In addition to showing previously unknown documents and artifacts associated with prominent Irish women activists, the exhibit also brings to light roles played by lesser known women, thereby enriching our understanding of the significant but often overlooked contributions that hundreds of women made to Irish nationalist movements during the early decades of the twentieth century that ultimately led to independence from Great Britain and the establishment of the Republic of Ireland in 1949.
Irish Women Rising: Gender and Politics in Revolutionary Ireland, 1900-1923 will be on display at Burns Library through March 25, 2017.