Open Access Week returns this year, from October 23rd to 29th. This year's theme is "Community over Commercialization." It has been hard to escape the fact that while Open Access (OA) has benefited many scholars by making their work available to read for no cost, commercial publishers are creating new problems for the academic community as publishing costs rise. Some editors are striking back, but it is not a sign of a healthy publishing ecosystem when business models dominate the conversation. Luckily, libraries and journals are exploring ways to move beyond Article Processing Charges (APCs), levied on authors, towards models where research funders and institutions pay for OA in a more equitable way.
To explore these issues as we celebrate OA Week on campus, the Boston College Libraries, in conjunction with the Schiller Institute for Integrated Science and Society, will be hosting a panel of speakers to talk about the benefits of OA to the community, as both research users and authors.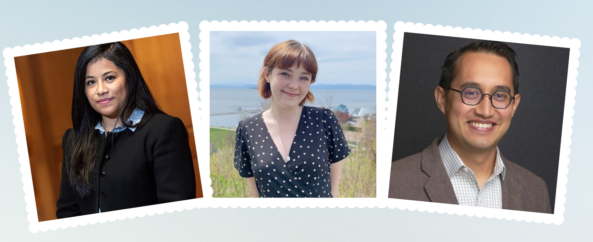 The panel consists of Raquel Muñiz, Assistant Professor in the Lynch School; Kelly Gray, a third-year English PhD student; and Bryan Ranger, Assistant Professor in Engineering. Raquel and Bryan have also been recipients of Open Access Publishing Fund Awards – opting to ensure that their research is published fully accessible for all – rather than behind paywalls.
This year's event will be on October 24 from 4:30 pm to 5:30 pm in 245 Beacon, Room 215. Light refreshments and desserts will be served! RSVP is not required.
Keep an eye out on the Libraries' social media accounts and the Scholarly Communications blog for an OA Week Scavenger Hunt, with prizes! In addition, there will be a display set up in the O'Neill Library. lobby, and a new digital display highlighting open access.