New Sciences E-Journal, Fuse, is Calling for Submissions
What is Fuse?
This fall, ejournals.bc.edu has started hosting a new Boston College student e-journal, Fuse, which aims to bring undergraduate science research to a wider audience. Fuse is intended to be a "collection of articles based on original laboratory research, reviews of current literature, and perspectives on issues facing the scientific community." The journal has already published two opinion pieces: the first goes into some of the effects of the pandemic on our perception of time, and the other covers updates and scholarship on the developments around the Electron Beam.

Fuse is calling for submissions of research and review articles by undergraduates, and is looking to publish its first issue in Spring 2023. Being part of ejournals.bc.edu means of course that Fuse will be an open access journal, free to read and submit to for undergraduate scholars looking for a bigger audience for their work. This is an exciting project as this represents the first science-based e-journal on our platform.
Editorial Board
The journal has been launched by Haden Wikar (MCAS '23), a teaching assistant and chemistry researcher with Dunwei Wang Research Group, and Carolyn Joyce, Chemistry major (MCAS '23).
Carolyn Joyce, '23 (co-Editor-in-Chief, chemistry)
Haden Wikar, '23 (co-Editor-in-Chief, chemistry)
Alicia Bergeron, '23 (Associate Editor, Media Coordinator, neuroscience)
Kate Donahue, '23 (Associate Editor, physics)
Catherine Hazard, '23 (Associate Editor, biochemistry)
Thomas Stack, '23 (Associate Editor, Fuse: Opinions Editor, chemistry)
Julia Govostes, '25 (Associate Editor, chemistry)
Discussion with co-Editor-in-Chief Haden Wikar
Why did you launch this new E-Journal?
I personally have been fortunate enough to have joined a research lab on campus that is well-established. This is particularly helpful for the prospect of publishing research with your own name on it. The first paper I helped to research and write was published during the spring of 2022. However, many undergraduates within the natural sciences are not able to be included as an author on a research paper. This is due in part to the relatively short amount of time we are able to participate in research before graduating. I hope that Fuse provides an opportunity for undergraduates to showcase their work that may not be as complete as required by a professional journal.
What are your expectations for the editorial review process?
I hope that being a part of the Fuse e-board allows students to gain insight into what it is like behind the scenes in science literature reviewing. Throughout academia, research is submitted to professional journals and then undergoes a rigorous peer-review process. Hopefully, this provides students with an idea of what that is like!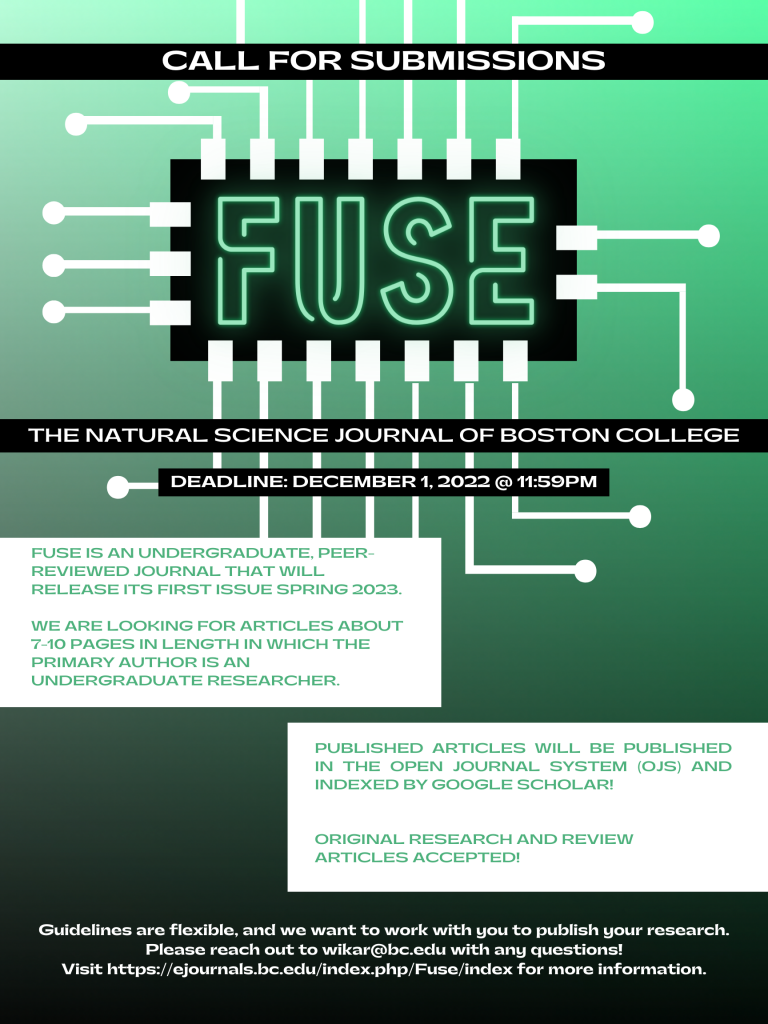 Interested in Starting an E-Journal?
If you have any questions about starting your own open access e-Journal at Boston College you can reach out to ejournals@bc.edu. The platform currently hosts eighteen e-journals which publish at varying rates – some are led by faculty members while others are managed by graduate students, undergraduate students, or academic student clubs on campus. For a full list of our e-journals check out ejournals.bc.edu.