Introducing Doug Olsen, Senior Liaison for CSOM
Who Are You?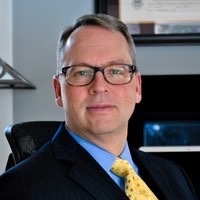 Hi, I am Doug Olsen, the Senior Liaison Librarian for the Carroll School of Management here at Boston College. The role involves serving students, faculty and staff by enhancing the library collection of books, periodicals and databases, and providing library research instruction to ensure our University colleagues get the most value out of their precious time and tuition dollars. Increasingly, this work is digital.
What Is Your Background?
Like many of our incoming students and new faculty, this Fall semester is my first at Boston College and even in higher education. All my previous work experience was in advertising, banking, consulting, and asset management within marketing and strategic planning functions. My education includes a BA in English from Michigan, MS in Library and Information Science from Simmons University, and MBA from Babson College. I am so happy that many of my skills like problem structuring, relationship management, and story-telling are transferable from industry to academia.
What Motivates You?
At this stage in my career, it is important for me to find meaning in my work; helping colleagues with their research at any level or rank provides me with that sense of meaning. I love coaching and mentoring and am gratified when academic success shines through with getting that internship, creating an engaging class, publishing a peer-reviewed article or even achieving tenure.
What Are You Working On?
Right now, in addition to partnering with CSOM to curate a research- and teaching-focused array of data sources, I am collaborating with several colleagues in the BC Libraries and CSOM on producing a research guide with embedded research instruction videos to add to our robust portfolio of business guides. The work is tailored for Portico, the course for first-year students which introduces CSOM's distinctive brand of management learning, inspired by the University's Jesuit approach to both professional and liberal arts education. The video format helps cover the massive scale of over 600 students, as well as improving accessibility across various learning modes and preferences.
What Do You Do For Fun?
I am a competent amateur musician on the double bass and electric bass. My family and I love to garden and do home renovations. And I write haiku to remind myself of the value of brevity. Here is one to herald this fresh semester:
library welcomes  
all academic colleagues  
greatness lives inside!