Your Name: Bibliosaurus
Your Library: O'Neill
Your Department: Access Services
Job Title: General Nuisance Associate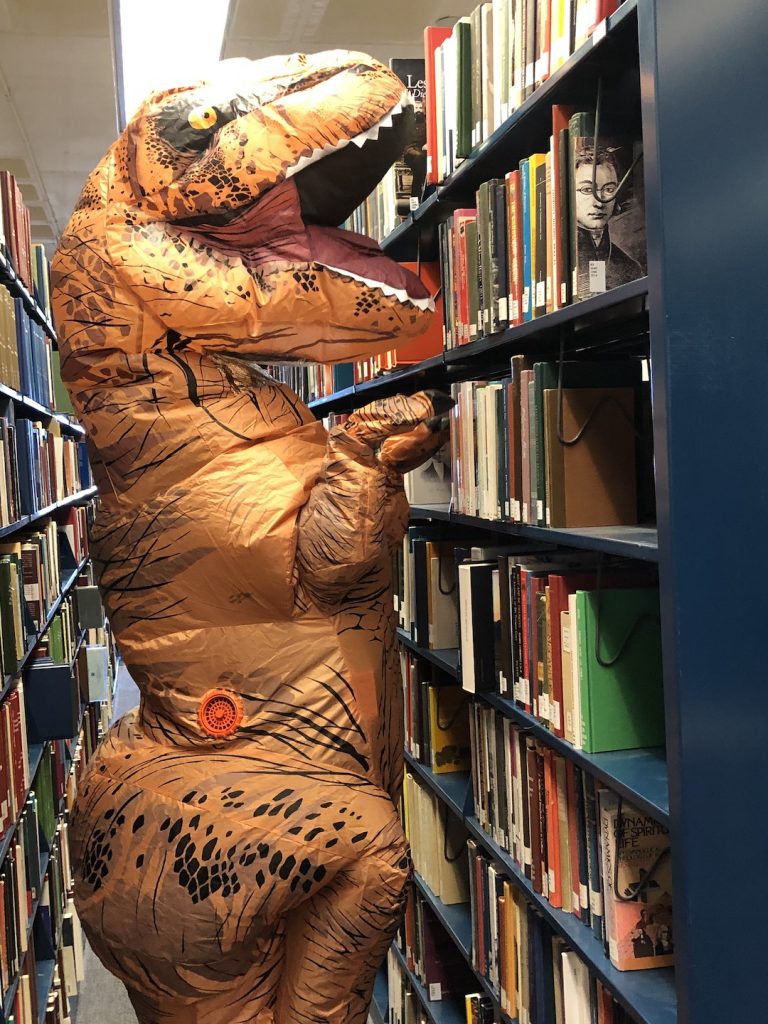 What is your favorite part of your job?
I get to share and promote O'Neill Library services and resources with the community! And by doing so, it means I get to use them too! Because if a dinosaur can do it, anyone can. Plus, most of my job is modeling for the social media team, and even dinosaurs need to feel glamorous every once in a while. They do keep asking me to actually re-shelve books while I'm posing for pictures pretending to re-shelve the books. Re-shelving books was not part of my job description. I hope they don't mind that I snack on a few in the process.
How long have you worked for Boston College Libraries?
Even though I'm about 80 million years old (don't skip out on sunscreen, it'll save your face!) I've only started to look for jobs very recently. It's tough enough to rent an apartment in Boston as it is, even harder for a dinosaur with no line of credit. Luckily, the staff at Boston College thought I could be useful highlighting all the library has to offer, even during quarantine! It was a little tricky starting out – a lot of profound apologies, you know? People coming around a corner don't expect to find themselves face-to-face with a prehistoric predator. Officially, I started in May of 2020, so it's my one-year anniversary soon!
Give us one fun fact that you would like the BC Community to know about you?
I'm actually a vegetarian!