Despite the restrictions and limitations of the pandemic, the Digital Studio is still open*. In addition to providing an extra study space for students, the Studio has recently begun supporting some cutting edge equipment and software that can help students develop digital scholarship projects.
To see all of the equipment available in the studio, you can visit the Equipment Page on the Digital Studio section of the Digital Scholarship website.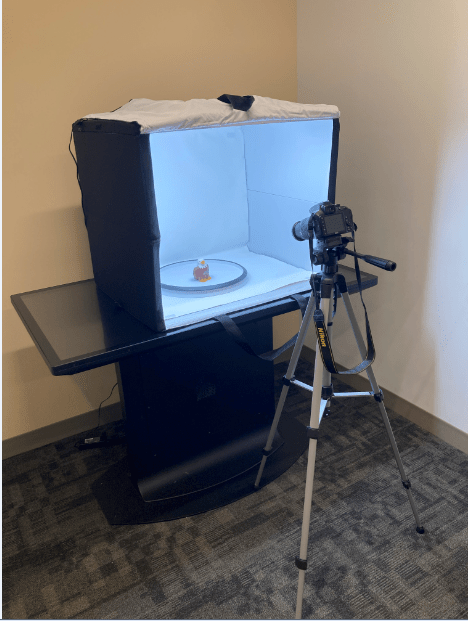 While the studio allows for students working a variety of different projects to experiment with new software and technology, there are a few new items which we can now provide support for.
LiDar scanning allows students to work on visualizing 3-D projects prior to sending them to a printer. LiDar stands for "laser imaging, detecting, and ranging" and is also known as 3-D laser scanning. This technology allows for the creation of high-resolution maps and 3-D images.
This interactive 3-D image captures stained glass in the Bapst Library. Check out last week's post for other current 3-D projects in our digital studio.
While the LiDar capabilities certainly represent a new cutting edge imaging technology; the iPads can also be used as regular iPads; for testing user interfaces on different devices and anything else you might want to check out an iPad for.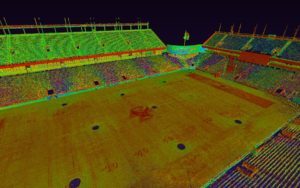 Oculus Quest, an immersive headset for users to interact with VR spaces
Now in the studio we also have an Oculus Quest which can be used to enter and experience virtual realities in a very immersive way. The Oculus Quest is available for use in the Podcasting Room in the digital studio. If you do want to make use of it, be sure to reserve the Podcasting Room to ensure you will be able to use the resources that you need.
Python/Jupyter Notebooks – a tool that allows users to share live code while developing projects
Jupyter Notebook is an application that allows the sharing of active code. It is similar to Google Drive, but with formatting designed for developing open source projects.
If you have any other questions about equipment or how to use or reserve it, check out the Digital Scholarship website and the Digital Studio page.
---
*The Digital Studio's capacity is reduced; make an appointment to guarantee a space.