Boston: A Publishing Hub
Boston became a publishing hub during the 19th century, with many of the publishers and printers establishing their operations along Cornhill Street, near present-day City Hall.
Technology for producing books evolved rapidly in the 1800s. The use of cloth rather than leather as a material for book covers enabled the publishers to experiment with stamped patterns and colors while also making their products more affordable. In the 1880s, the industry moved away from using skilled craftsman to create the metal forms used to stamp decorative motifs, and turned instead to trained artists, including women, to create designs that were then transposed by photomechanical processes onto the engraved blocks used for printing and stamping covers. Such artists created book designs that reflected a range of contemporary aesthetic movements, including Colonial and Gothic Revival as well as Arts and Crafts, as witnessed in the covers and illustrations for Guiney's books.
The Pilot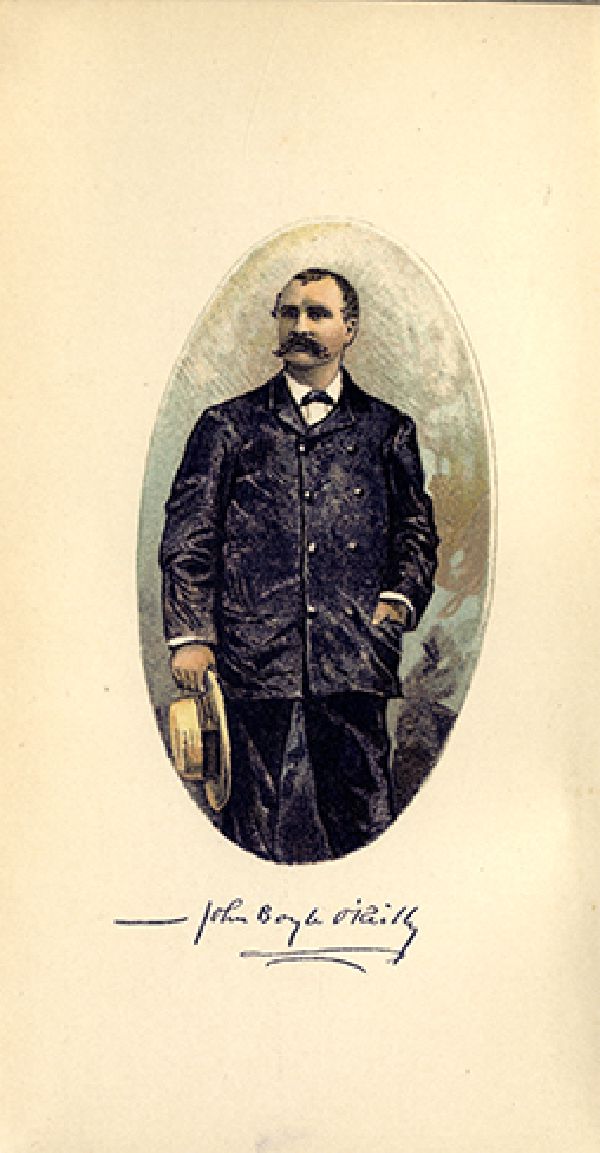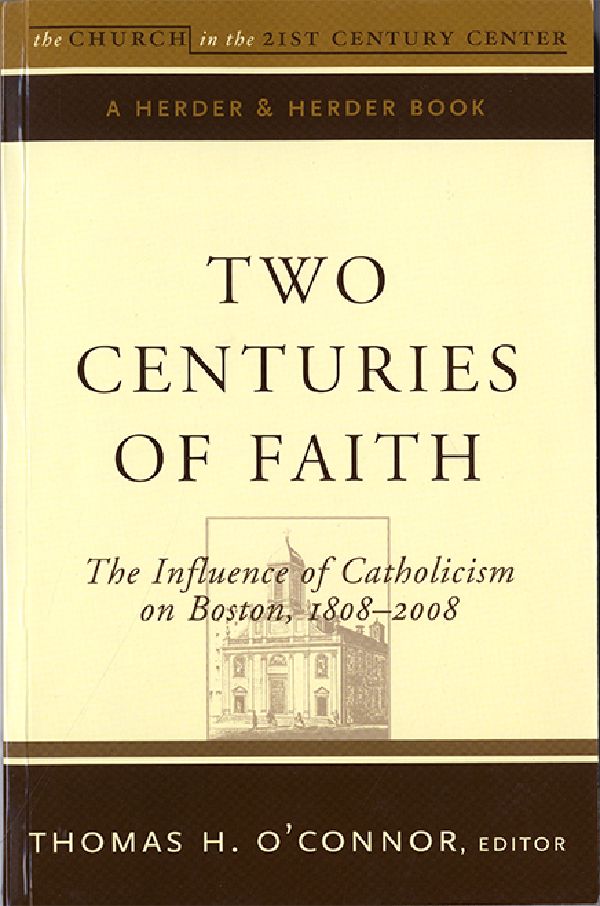 Late 19th century design
The books in this section, printed between 1885 and 1895, have cover designs that reflect the techniques and styles typical of the period and its emphasis on craftsmanship. Guiney's collections of poems, Songs at the Start and The White Sail, feature striking ornaments that echo their titles. Her collections of essays, Goose Quill Papers and A Little English Gallery, also boast gold-stamped cover designs that respond to their contents. Illustrations for Guiney's retelling of the story of "Peter Rugg the Bostonian" and her essay on Martha Hilton reflect a Colonial Revival style in keeping with their Colonial-era subject matters. The increasing care and resources that publishers invested in cover designs, illustrations, and frontispiece portraits for Guiney's work provide evidence of her growing reputation as a writer as the 19th century came to a close.
Sarah Wyman Whitman
Sarah Wyman Whitman (1842-1904) was a pioneer artist-designer active in the Boston publishing industry during the latter part of the 19th century. Examples of her work shown here, although unsigned, may be recognized and identified by the distinctive lettering style she developed for cover titles. A Boston socialite who knew many of the area's best-selling authors, Whitman also was acquainted with the publisher George Mifflin, a partner in Houghton, Mifflin and Company, which published three books by Guiney. An adherent of the Arts and Crafts movement, which regarded art and life as inseparable, Whitman created designs for books that were both elegant and affordable in order to provide decorative objects for the home as well as sources of intellectual cultivation for readers. Whitman was a member of the Boston Athenaeum, and met Guiney through their shared Athenaeum connections
Bertram Grosvenor Goodhue
Guiney participated in gatherings of the Visionists, an informal group of Boston artists, architects, musicians, and writers inspired by the English Arts and Crafts movement founded by William Morris, which looked to the Middle Ages for its ideals. Members Ralph Adams Cram and Bertram Grosvenor Goodhue produced a periodical, The Knight Errant, borrowing its title from a poem by Guiney.
Goodhue designed the title page for Guiney's Nine Sonnets Written at Oxford, published in 1895 by F. Holland Day and Herbert Copeland. Copeland and Day produced approximately 100 volumes, including several more by Guiney, who served as the firm's poetry editor. When it closed in 1899, she encouraged Day to devote himself more fully to photography, which he was among the first to champion as an art form. Day's photographs of Guiney posed as St. Barbara served as models for the engraved portrait of Guiney in Alice Brown's posthumous tribute.
Additional Goodhue designs for Guiney's books:
Guiney, poetry editor for Copeland and Day publishers