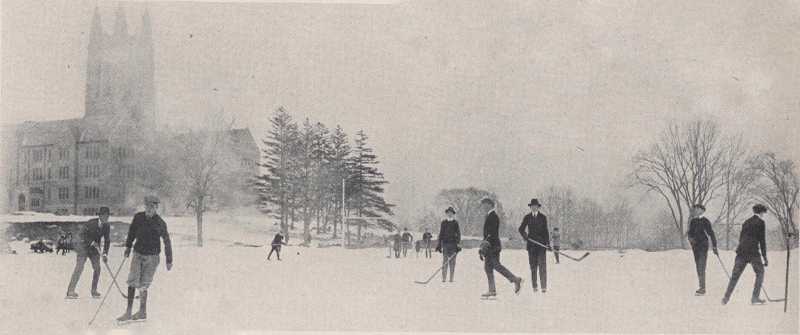 The Boston College Eagles played their first intercollegiate ice hockey game over 100 years ago.
The story of hockey at Boston College began in the late 19th century with an earlier version of the game known as "ice polo." Aside from brief breaks for the Great Depression and World War II, the modern version of the game has been played by men and women at "University Heights" since 1918.
When the BC campus was still in the South End of Boston, our earliest home ice was on frozen ponds or flooded athletic fields. After the move to Chestnut Hill in 1913, the Eagles skated on temporary outdoor rinks next to St. Mary's Hall and on Alumni Field until the construction of McHugh Forum (1958). The teams' current home is Kelley Rink in Conte Forum (1988). Games and tournaments were also played for many years at the legendary Boston Arena and at Boston Garden.
BC's hockey traditions include games against near-neighbor and hockey archrival Boston University. The Beanpot Tournament – held at the Garden every February featuring Boston College, Boston University, Harvard, and Northeastern – is also an annual highlight. "Trophy season" follows; the men's team has won five National Championships and the women have a strong record of tournament wins and championships. Individual Eagles also bring pride to the University with both their collegiate and professional hockey achievements. Media guides, game programs, photographs, artifacts, published sources, and other material from the Boston College Archives record these deeds.
This exhibit is a sampling of materials held by the Boston College Archives. They were created by students and alumni, faculty and administrators, managers and marketers – Superfans!
How can you find these items? Much can be viewed online, including Sub Turri and The Heights. Many photographs are available online and those that are not may be used in the Burns Library. Collections of artifacts, programs, and correspondence are also available on request. Have questions? Contact us.