Exhibit Higlights
burns library
Mary O'Hara, Singer and Harpist: A Retrospective
October 1, 2009 – April 10, 2010
---
The exhibit, Mary O'Hara, Singer and Harpist: A Retrospective, honors the recent donation of the Mary O'Hara Papers to the Irish Music Archives of the John J. Burns Library, Boston College.
---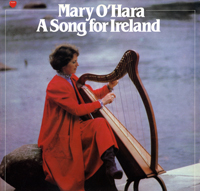 An artist of international renown, Mary O'Hara has appeared on many of the world's major stages, including Royal Albert Hall, New York's Carnegie Hall, Sydney Opera House, and Toronto's Roy Thompson Hall. This exhibit celebrates the life and work of Mary O'Hara, featuring posters, recordings, correspondence, and books selected from the Mary O'Hara Papers.
Mary O'Hara was born in County Sligo, Ireland and first achieved international fame in the 1950s and 1960s with a series of landmark recordings and a television series on BBC-TV. Her performances revived the tradition of the Irish harp as an accompanying instrument -- a tradition dead in Ireland by the 1950s. Liam Clancy in his 2002 autobiography, Memoirs of an Irish Troubadour, has written how Mary O'Hara's music inspired him and others of the "folk revival" period of the early 1960s. In 1956 she married the American poet Richard Selig, a Rhodes Scholar at Oxford, and they planned to live in the United States. Following his untimely death fifteen months into their marriage, she left behind her musical career for life as a contemplative nun. She left the monastery twelve years later, and in 1974 resumed recording and performing, appearing in major concert halls around the world to great acclaim. In 1994 she retired from singing and in 1996 she accompanied her husband Dr. Padraig O'Toole to work in Africa for six years. A musical play about Ms. O'Hara's life called Harp on the Willow was produced in Australia in 2004 and 2007. She currently resides with her husband in England.
Ms. O'Hara's papers include promotional materials, business correspondence, recordings, sheet music, books, and other items. Selected items are on display in the Irish Room and the Francis Thompson Room of the Burns Library.