Spring 2016 Burns Visiting Scholar in Irish Studies Lecture
Fifty Ways to Cleave Your Brother: Mayhem, Mischief, & Misfits in Medieval Irish Monasteries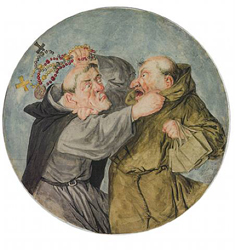 Wednesday, March 2, 4:30 p.m.
Thompson Room, John J. Burns Library
Please join us for a lecture by Dr. Colmán Ó Clabaigh, a Benedictine monk of Glenstal Abbey, Co. Limerick, and a medievalist specializing in the history of monasticism and religion in Late Medieval Ireland.
Although St Benedict's Rule describes the monastery as a "household of God," human frailty has meant that the reality is always more complicated. Dr. Ó Clabaigh explores how ethnic rivalry, madness, alcohol abuse and personal ambition impacted the religious communities of late medieval Ireland.
The Boston College University Libraries and the Center for Irish Programs cordially invite you to attend a reception honoring Dr. Ó Clabaigh in the Library's Irish Room immediately following his lecture.
This event is free and open to the public but please let us know if you plan to attend by registering here: Burns Scholar lecture
For more information about Dr. Ó Clabaigh and his research and publications, please visit bc.edu/burns.
For further information about the lecture, including directions and parking, please call (617) 552-3282.