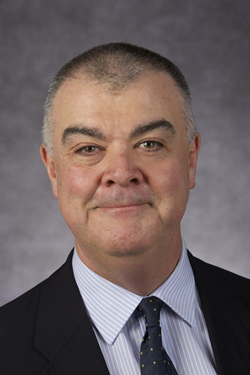 Please join us for Novelists and Politicians in Nineteenth-Century Ireland.
Wednesday, November 18, 4:30 p.m.
Thompson Room, John J. Burns Library
Please join us for a lecture by Rev. James H. Murphy, C.M., Professor of English at DePaul University and Fall 2015 Burns Visiting Scholar in Irish Studies. A historian of fiction as well as political historian, Professor Murphy will address questions that have emerged from his latest research on the Victorian period in Ireland and its aftermath:
What role did the Dublin Corporation, or city council, play in the national politics of Victorian Ireland, and how did it affect its service to the city's population?
What agendas did women novelists of the period pursue? What kinds of feminisms did they advocate in their fictions?
What novels, as yet unrecognized, may have influenced James Joyce's A Portrait of the Artist as a Young Man?
The Center for Irish Programs and the Boston College University Libraries cordially invite you to attend a reception honoring Professor Murphy immediately following his lecture in the Irish Room of the John J. Burns Library.
For more information about Professor Murphy and his research and publications, please visit bc.edu/burns.
For further information about the lecture, including directions and parking, please call Maureen McVeigh at (617) 552-3282.